Current News
Ladies have I got a deal for you... 1 time special offer until the end of November. We will wine & dine you & our Vet Brent will take very good care of you. 

All Group 1 Winning Mare (first race win only), FREE SERVICE and if the foal is to win a race, you will receive $30,000. 

All Group/ Weight for Age placed mares, if the foal wins, they will receive a FREE SERVICE to the Mare and $10,000. 

• Mares that have won a group/ weight for age race will receive a 50% DISCOUNTED service fee of $2500 normally valued at $5000
 
Aidan O'Brien had a strong hand in the Group I Irish Oaks (1m 4f) at The Curragh overnight with the race favourite Savethelastdance finding a soft track and conditions to suit to become the 98th Group I winner for legendary sire Galileo.
New QTIS Bonus Scheme 
Bonuses and breeders bonuses will be applicable to Black Type and selected Feature Races in Queensland.
No paper work, no charge, your applicable foal will be registered free of charge. 
GROUP 1 RACE WINNERS: $50K bonus or $100K sales voucher (redeemable on QTIS eligible horses at prescribed Queensland sales and across eight Group 1 races).
OTHER BLACK TYPE RACE WINNERS: (i.e. Group 2, Group 3, Listed and Restricted Listed): $10K bonus or $20K sales voucher (redeemable on QTIS eligible horses at prescribed Queensland sales)
SELECTED FEATURE RACE WINNERS: $15K bonus and $20K sales voucher (redeemable on QTIS eligible horses at prescribed Queensland sales)
BREEDERS BONUS - 6% of the winner's QTIS bonus for all QTIS races in Queensland for progeny of Queensland based stallions. This is applicable to two-year-old,  three-year-old and selected four-year-old racing
QTISx BREEDERS BONUS - Breeders will receive $10,000 for Group 1 races and $5000 for the remaining black-type races and features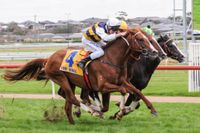 2013
By a champion world sire Galileo
By GALILEO (1998). European Champion, Classic winner of $2,245,373 USA in
    England and Ireland, Budweiser Irish Derby [G1], etc. Leading sire 20 times
    in Czechoslovakia/Czech Republic, England, France, Ireland and Slovakia,
    sire of 16 crops of racing age, 2901 foals, 2217 starters, 331 stakes
    winners, 14 champions, 1504 winners of 3936 races and earning $270,940,039
    USA, including Frankel (European horse of the year, $4,789,144 USA$, QIPCO
    Two Thousand Guineas [G1], etc.), New Approach (European champion twice,
    $3,885,308 USA$, Vodafone Epsom Derby [G1], etc.), Cape Blanco (IRE)
    (champion in the U.S., $3,855,665 USA$, Dubai Duty-Free Irish Derby [G1], etc.),
    Wells (champion in Australia, $1,093,211 USA$, 2nd Andrew Ramsden S. [L]).

1st dam
ANOTHER STORM, by Gone West. Winner at 2, $27,960. Dam of 13 foals, 11 to race,
      10 winners--
   ORDER OF ST GEORGE (IRE) (c. by $Galileo (IRE)). 13 wins in 23 starts, 2 to 6
      in England and Ireland, placed in 2 starts at 4 in France, $2,821,488
      (USA$), hwt. at 3 on European Free Hand., 14 fur. & up, Hwt. at 3 on Irish
      Free Hand., 14 fur. & up, hwt. older horse at 4 on European Free Hand., 14
      fur. & up, hwt. older horse at 5 on European Free Hand., 14 fur. & up,
      hwt. older horse at 4 on English Free Hand., 14 fur. & up, hwt. older
      horse at 5 on English Free Hand., 14 fur. & up, hwt. older horse at 4 on
      Irish Free Hand., 14 fur. & up, hwt. older horse at 5 on Irish Free Hand.,
      11 - 14 fur., hwt. older horse at 5 on Irish Free Hand., 14 fur. & up,
      Comer Group International Irish St. Leger [G1], Palmerstown House Estate
      Irish St. Leger [G1], Gold Cup In Honour Of The Queens 90th Birthday [G1],
      QIPCO British Champions Long Distance Cup [G2], Ballyogan Comer Group
      International Irish St. Leger Trial [G3], Palmerstown House Estate
      Ballycullen Irish St. Leger Trial [G3], Palmerstown House Estate Irish St.
      Leger Trial [G3], Vintage Crop S. [G3], etc.
   ANGEL TERRACE (f. by Ghostzapper). 4 wins at 3 and 5, $298,848(USA), Pin Oak
      Valley View S. [G3] (KEE, $75,000), Kentucky Downs Ladies Marathon S. (KD,
      $58,900), 2nd Robert G. Dick Memorial S. [L] (DEL, $40,000), 3rd Rood and
      Riddle Dowager S. [L] (KEE, $12,500), Kentucky Downs Ladies Marathon S.
      (KD, $11,304), Northern Fling S.-R (PID, $8,250). Producer.
   ASPERITY (c. by War Chant). 7 wins, 2 to 8 in England, NA and France,
      $245,483 (USA$), Prix Paul de Moussac [G3], 3rd Betfredpoker Classic Trial
      S. [G3].
   SEHOY (c. by Menifee). 9 wins, 3 to 5 in England and Sweden, $144,199 (USA$),
      Skanska Faltrittklubbens Jubileumslopning [L], 2nd Songline Classic [L].
   =Kellstorm (IRE) (c. by $Galileo (IRE)). Black type placed winner, see
      below.
   Kitty Love (f. by Kitten's Joy). 2 wins at 3, $68,195. Producer.
   =Shakour (IRE) (c. by Declaration of War). 3 wins at 3 and 5, 2020 in England
      and Qatar, $40,305 (USA$).
   =Earth Strike (IRE) (f. by Zoffany (IRE)). Winner at 2, 2020 in Ireland,
      $17,464 (USA$).
   =Grenadier Guard (IRE) (g. by =Australia (GB)). Winner at 3 in England,
      $15,958 (USA$).
   =Arwa (IRE) (f. by =Holy Roman Emperor (IRE)). Winner at 2 in England, $4,204
      (USA$).
   Stormy View (f. by Cozzene). Placed at 3 in England, $3,842 (USA$).
      Producer.
2nd dam
STORM SONG, by Summer Squall. 4 wins at 2, $1,020,050, champion 2-year-old filly
      in U.S., Breeders' Cup Juvenile Fillies [G1], Frizette S. [G1], Adirondack
      S. [G2], 2nd Matron S. [G1], 3rd Kentucky Oaks [G1], Ashland S. [G1].
      Half-sister to DIAMOND OMI ($160,740, Oak Leaf S. [G2] (OSA, $120,000)).
      Dam of 5 winners--
   Trojan Nation (c. by Street Cry (IRE)). Winner at 3, $252,125, 2nd Wood
      Memorial S. [G1] (AQU, $190,000).
   Balladry (c. by Unbridled's Song). 3 wins at 3 and 4 in NA, $177,438 (USA$),
      2nd San Fernando S. [G2] (SA, $30,000), 3rd Cougar II H. [G3] (DMR,
      $12,000), Prove It S. (BHP, $8,598).
   Another Storm (f. by Gone West). See above.
   Desert Chill (f. by Red Ransom). 2 wins at 3 in England, $30,309 (USA$). Dam
         of--
      =Ice Storm (JPN) (c. by Storming Home (GB)). 5 wins, 3 to 5, 2020 in
         Japan, $879,764 (USA$), 3rd Chunichi Shimbun Hai [G3].
   Winged Foot Willie (c. by Coronado's Quest). Winner at 3, $35,870. Sire.
   =Strawberry Fair (GB) (f. by Kingmambo). Placed at 2 in England. Dam of--
      =MIDSUMMER FAIR (JPN) (f. by =Tanino Gimlet (JPN)). 3 wins at 3 in Japan,
         $1,182,998 (USA$), Sankei Sports Sho Flora S. [G2], 3rd Hokkaido
         Shimbun Hai Queen S. [G3], Kochi S. [L], Turquoise S. [L]. Producer.
   Piano Concerto (c. by Red Ransom). Placed at 4 and 6 in England, $3,187
      (USA$).
   Quiet Life (f. by Sunday Silence). Unraced. Dam of--
      =BETTER LIFE (AUS) (f. by Smarty Jones). 8 wins in 14 starts, 3 to 5 in
         Singapore, $1,660,660 (USA$), champion 4-year-old in Singapore,
         Champion miler in Singapore, champion stayer twice in Singapore,
         Longines Singapore Gold Cup [L], Emirates Singapore Derby [L], Kranji
         Mile [L], Queen Elizabeth II Cup [L], 3rd JBBA Moonbeam Vase [L].
         Producer.
   Wild Idle (f. by Seeking the Gold). Unraced. Dam of--
      Roadrunner's Honor (f. by Honor Code). Winner at 2, placed at 3, 2020,
         $68,328, 3rd Sweet Life S. [G3] (SA, $12,000).
   Cumulus (GB) (f. by Kingmambo). Unplaced in France. Broodmare of the year in
         2019. Dam of--
      =THE LAST ROMANCE (TUR) (f. by Tizway). 8 wins at 2 and 3, placed at 4,
         2020 in Turkey, $651,658 (USA$), horse of the year in Turkey, Champion
         2-year-old filly in Turkey, champion 3-year-old filly in Turkey,
         champion grass mare in Turkey, champion stayer in Turkey, Gazi Derby
         [L], Kisrak Turkish Oaks [L], International Trakya Trophy [L], Siay Ve
         Sah Der S. [L], Inonu I S. [L], etc.
RACE RECORD for =Kellstorm (IRE): In Ireland. At 2, unplaced in 1 start. In
    England. At 3, unplaced in 1 start. In Ireland. At 3, one win, once 2nd,
    once 3rd. Earned 10,965 Euro ($12,423 USA). In Australia. At 3, two wins,
    once 3rd; at 4, two wins, once 3rd (Bart Cummings [G3]); at 5, one win,
    twice 2nd; at 6, twice 2nd; at 7, 2020, unplaced in 1 start. Earned 256,990
    AUS$ ($191,485 USA). Grand Totals: 6 wins, 5 times 2nd, 3 times 3rd. Earned
    $203,908(USA).
                                                              Kellstorm's first foal ever 2021  = what a beauty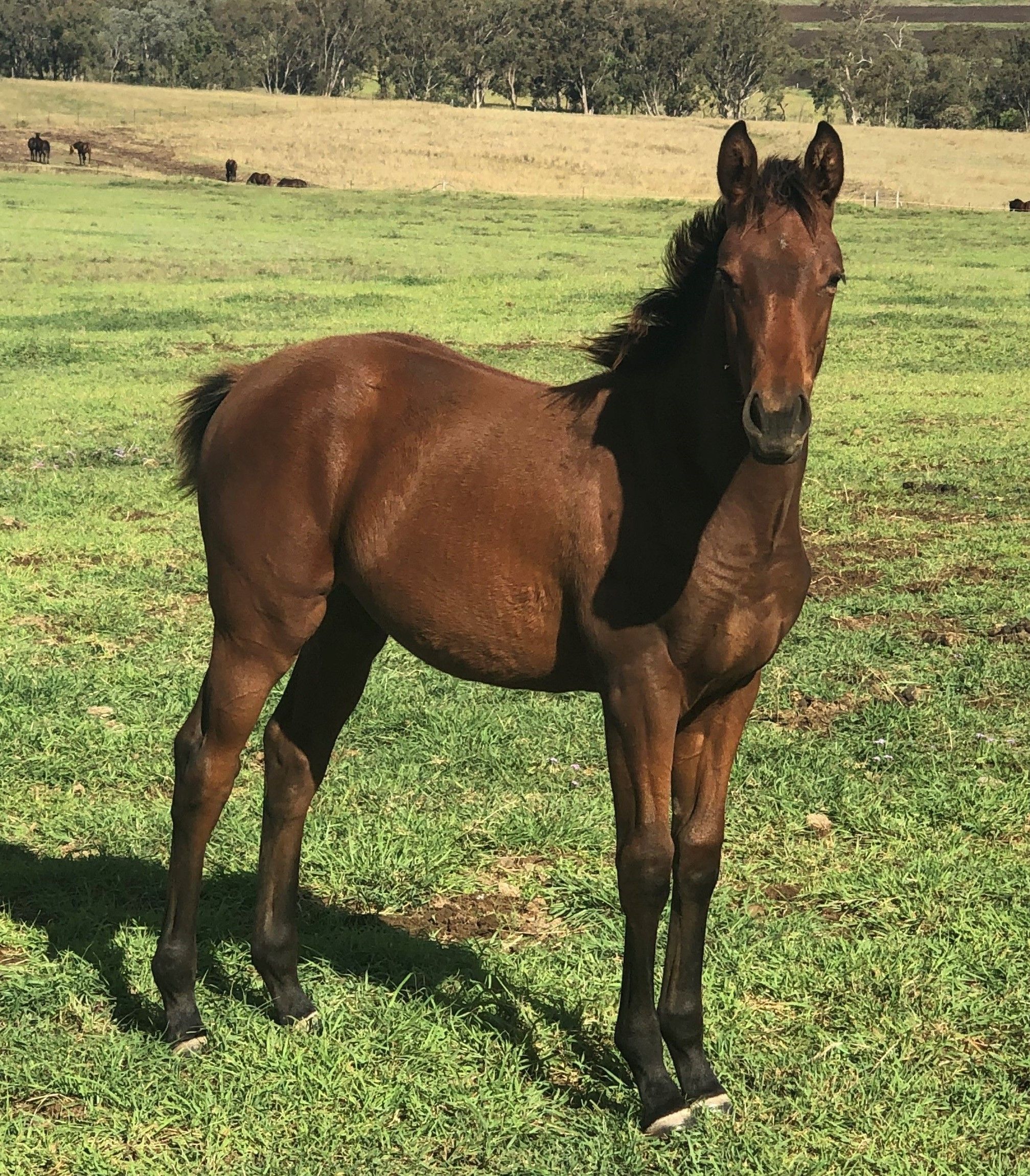 2023   =     foal above grown to a great strong yearling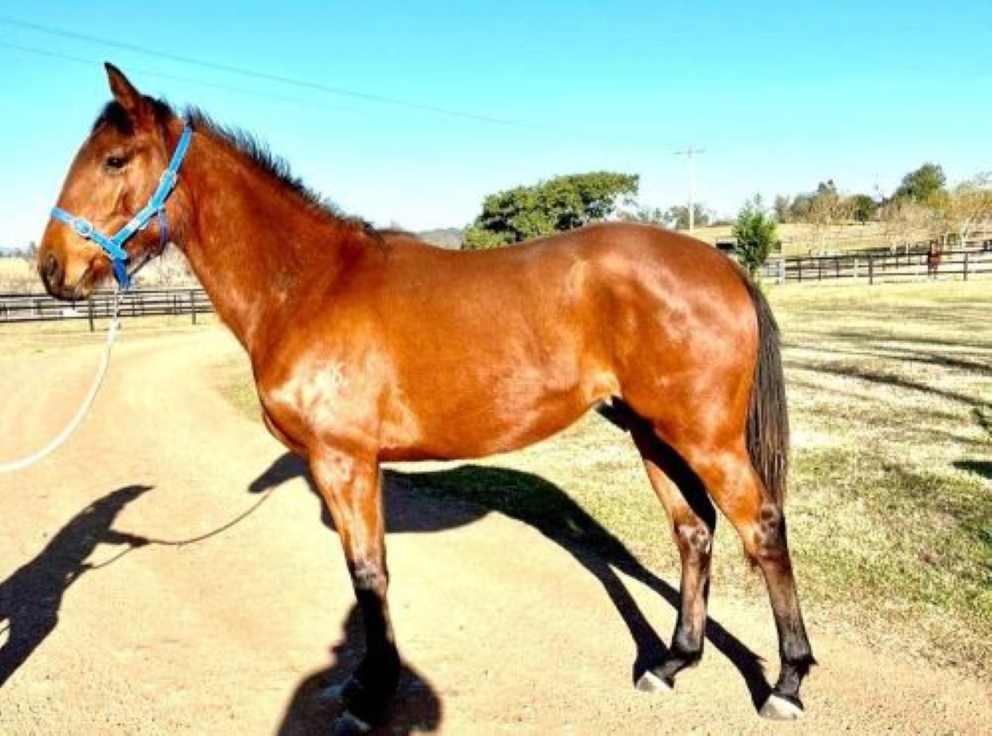 Here are few  Classic Names that will be appearing in my Thoroughbred Names, Anecdotes, and Odd  Stories Book.  This book will also include some history of some of our most famous sales outlets and auctions being Magic Millions, Inglis and Sons, Gavel House, Brisbane Bloodstock, and Aus Horse. All the names are genuine registered names in the Australian Stud Book. There are some really clever names and on research, they are very interesting if you think you have a name to appear in the book please let me know.



Champions Revenge = Champions Gallery out of Chloes  Revenge, This is his son to get revenge on all who have beaten him

Commanding Force  = Court Command out of Classic Over, hope he is a commanding force and gets results like a court order.

 


Ford's Theatre = by Regal Shot out of Theatrette.  This name refers to the President Lincoln Assination he was Regal  he was Shot and he was shot in Ford's Theatre

Seesawing = Easy Rocking out of Playground explains its self
.
Silver Mountain = Monashee Mountain out of Miss Freeze refers to an Ice top Mountain.

Swiss Rose = Thornpark out of Finishing School who was by Royal Academy. This is a very famous Swiss finishing school. 

Every Man's Dream  = Charge Forward out of Shes Game explains its self.

Faultlion = Felix The Cat out of Structural Fault reveals is self.

Very Superstitious = Playing Hours out of Kadaitcha Girl name revolves around Kadaitcha a Native Witch Doctor

Sayaprayforme = Fubu out of Rosary Beads explains its self

Zakynthos Imprintz = Footstepsinthesand out of  Zakynthos = Zakynthos is a holiday isle in Greece

Bradburys Luck = Redoubts Choice out of Skating refers to the Olympics speed skating race won by Bradbury

Court the Cat = Court Command out of Catnipped explains its self. 

Exaulted Filly = Barley A Moment out of Exaulted Madam  explains itself

Happy time = Foreplay out of Fabled,  hum !

Liquid Nitrogen = Freeze out of Licenced to Chill, a cool one.

Rip Rip Woodchip = Easy Rocking out of Miss Forest, this is shady one 

Agent Ness = Untouchable out of Ondeeki, no bribes here

Wicket Keeper = Hat Trick out of Radiant Charm, you need a charm for a hat trick

Tinsley Green = More Than Ready out of Devils Marble,Tinsley Green is where they play the world Championship for marbles

Treasury Notes = Special Bond out of Finanical Rescue, hope its good value

Weekend Getaway = Church Hill Downs out of Weekend Surprise, sounds like a nice break. 

So.La.Ti = Oratorio out of Scale of Heights, true sounds for the musician

Weekend Passion = Any Given Saturday out of Tempting Beauty, interesting hmm 

Handzoff = Untouchable out of How Sweet She Is, now behave please

Cream of Oz = Aussie Rules out of Milk 'n' Cookies, morning tea yum.

Russian Maestro = Oratorio out of Russian Flair, conduct the players

Coffee. = Coats Choice out of Milk and Honey  yes please just feel like a cuppa

Money Trail = Red Ransom out of Trail of Gold. all the way to the bank hopefully

Nordic Girl = Viking Ruler out of Country Girl just what he wanted a nice country lass

Royal Butler = Scandal Keeper out of Deyarra he would know all this fellow.

Devi Jam = Duke of Marmalade out of Miss Mahal great on toast

Commands the Stage  = Commands out of Toast of Broadway will put on a great show I am sure

Glenrowan Prince = Bushranger out of Blue Magic.  watch out for this fellow  he may rob you

El Galco = Estambul out of Greyhound should be very fast but will be looking for a bunny. 

Aerial Ping Pong = Aussie Rules out of Magical Profit Australian bred for sure.

Back Stage Pass  = Tickets our of Sutton Smile  going in the back door with this one

Pokies Grin  = Casino Prince out of Cheeky Grin, that's after a win

Billions = Mail Train out of Trillions, hope this one is as good as his name indicates

 
SPECIAL NOTES
Important to note depression is a big thing with horses. When they are racing they get primary care and lots of TLC the same as competition horses but if they get hurt many of them are pushed aside and fulltime and proper care is withdrawn. Not all suffer this but many do the horses are not stupid and they wonder what have they done where is my mate (strapper) etc what is ahead for me they feel the abandonment simular to a human after a death in the family. Please take more care with retired horses and remember what they have done for you.
===========================================================
Vital signs (TPR) – What's normal & What's not 
Are you aware of a horses normal vital signs or TPR (Temperature, Pulse, Respiratory)? Have you ever wondered what a normal temperature is for a horse, what their heart rate should be, or how many breaths they should be taking per minute? 
It's not a bad idea to have a knowledge of what these parameters are so you can know that your horse is feeling happy and healthy. By regularly checking your own horse, you will get an idea of what their normal TPR is and you will be able to notice quickly if they aren't feeling well or not recovering from strenuous exercise as they should be. Below is a guide to help you, however, please remember that every horse is different, and rates may vary from one to the other.  
Temperature – normal range is between 37.4- 38.4 degrees C, a high temperature can be a sign of illness or overheating, a decrease can indicate shock or sickness. Temperature is checked via the rectum, always using a clean thermometer. As a note a foal's temperature will be slightly higher than an adult horse so keep this in mind if checking a foal, and probably best to seek the advice of a vet.   
Heart Rate (pulse) – is normally between 36-42 beats per minute but this can vary slightly for each horse. Things such as current health and fitness levels can affect the heart rate. To manually check your horses heart rate place 3 fingers (not your thumb) where veins are closest to the skin surface such as under the jaw, or under the tail. You can also check it with a stethoscope just behind the elbow. When checking count the heart beats for 15 secs then multiply it by 4 to get a per minute rate. Heart rate should return to normal within 30 mins after exercise. Note:  Rates for foals 70-120 beats/min, yearling 45-60 beats/min 

Respiratory Rate – Can vary between 12-20 breaths per minute. You can check this by watching the horses rib cage or nostril and counting the breaths. Wait 30 mins after exercise to check respiratory so you can be sure the horses' rate has returned to normal. Respiratory rates can be affected by fitness, temperature, pain, excitement or illness.  
There are another few ways to help check if you feel your horse is feeling unwell such as  
Mucous membranes – should be a healthy pink colour, moist, with a capillary refill time of less than 2 secs 

Gut sounds – should have good strong gut sounds on both sides 
Hydration – using the skin pinch test should retract in around 1 sec  
Hopefully these helpful hints will let you decide what is normal or abnormal for your horse. Remember this is just a guide, if you do have any concerns regarding any of your horses vital signs please call and make an appointment with your veterinarian to have your horse fully checked over.  
5 Things Your Horse Will Always Remember!

Horses have an exceptional level of awareness meaning that they can understand situations much more deeply than other animals. They are so attentive that they can pick on other people's emotions through body language, voice, or just the general vibe you give off. This type of awareness can lead to much more intense experiences for horses. Here are some experiences your horse will remember forever!

1. Places

Horses have quasi photographic memory, meaning that they can remember places very clearly. It can be positive or negative, depending on the experience they had in a particular place. Imagine your horse witnessed a very traumatic event. Most likely he will never forget the place or event and move away from that area. If your horse seems hesitating to go somewhere, listen to him, comfort him and trust him, he knows what he's doing!

2. People

As horses have an almost photographic memory, it's no surprise that they remember people by their faces. Show them the picture of someone they know and they will probably react. Horses can even recognize people after years of being apart! But their memory goes far beyond our general appearance. Horses can read our facial expressions and remember them for later, too.

As part of the study, horses were shown pictures of people with happy or sad expressions. After meeting these people in person (with neutral expressions), the horses reacted based on the original expression they had memorized in the photos. If you meet a horse for the first time, then you have to make a very good impression on him!

3. Emotions

Besides places and people, horses have an innate ability to recognize human emotions. Horses have a tendency to perceive body language, even the most subtle, which helps them determine a person's feelings. If we are feeling stressed, sad or angry, our physical appearance tends to reflect this. Same goes when we feel happy or excited! Horses don't just read emotions, they also remember a person based on the last emotion they felt from their last interaction. This is a useful strategy for horses to avoid any possible aggressive encounters.

4. The other horses

Humans aren't the only ones who can leave an indelible imprint on a horse! Horses can remember and recognise other horses from their social network. Whether it takes a few years or decades, one horse will never forget its relationship with another. This doesn't mean as much they will pair up with each other if they ever get together. One horse will only react to another if the bond they had was particularly strong. If he knows a horse from a previous encounter, he may treat it differently than others.

Other important bonds between horses, like the one that unites a mare and her foal, are known to last a lifetime. As horses also remember smells, this can help a mare recognize her baby, even years after separation.

5. The words

Horses are able to understand words much deeper than we thought, but not in the traditional sense we give words. They understand the words by tone, height and length of the voice. Words with fewer syllables tend to stick better to horses. They can tell when someone is insulting them and when someone is complimenting them. Don't underestimate their intelligence, because there's a good chance they're listening very attentively to every word you utter.

Horses are incredibly gifted animals, and should be treated as such! Having an idea of the memories horses hold with them forever will allow you to understand and communicate with them even more deeply. Whatever the experience, good or bad, you can be sure your horse has felt it fully. Do your best to give them a good memory, and they will surely do the same.

  · 

 

  Active
Worming Pregnant Mares 
Should I worm my pregnant mare? 
Deworming pregnant mares is one protocol that most horse owners consider carefully before administering. In general, many are uncertain of the appropriate horse worming procedure to follow for expectant mares with safety usually a primary concern. 
One of the most important things to remember when worming your pregnant mare is product selection. Most horse wormers available in Australia are safe to use on a pregnant mare throughout their pregnancy. However, you should check the label or product information prior to use as it will say whether it has been tested as safe for use in pregnant mares. No wormer should be given that hasn't been tested and approved as safe during pregnancy. Read the label carefully and consult your veterinarian if you're unsure. 
What product to use: 
Wormers that are available in Australia and advised by the manufacturer to be as safe for use in pregnant mares include (but not limited to): 
Equimax Elevation 

Equimax 

Equest Plus Tape Gel 

Razor 

Imax Gold 

Promectin Plus 

Ammo and Strategy T 
Ivermectin is a popular active ingredient in wormers used for different types of equine parasites and is also known to be a safe choice for pregnant mares. There are also other options considered to be safe for the expectant mares like fenbendazole.  It is generally recommended to rotate wormers during pregnancy. For instance, a pregnant mare should be given fenbendazole during its third month of pregnancy, provided that your property has not developed any resistance to the drug. Followed with Ivermectin during the sixth to seventh month. 
When should you worm:  
When it comes to worming pregnant mares, they should be treated as normal throughout their pregnancy. They should be kept on a regular worming rotation (every 6-8 weeks or as per the recommendations on the wormer being used). You should try to worm them about 2 weeks prior to foaling and try to limit the stress involved during the process.  
Deworming with Ivermectin can also be performed 24 hours after foaling to help prevent parasites from being passed on to the foal through its mother's milk. You should then worm both the mare and foal again when the foal is about 6-8 weeks old. 
Other tips to remember:  
It is important to remember, no worming program is complete without proper pasture management and good husbandry. The strategies below can drastically reduce the number of parasites on your property and help safeguard your mare and foal from intestinal parasites: 
Remove manure from pasture at least twice per week 

Rest paddocks during hot, dry temperatures 
Avoid over-crowding pastures 

Ensure all horses are wormed correctly 

Integrate faecal egg counts into your worming. A faecal egg count prior to worming, followed by a faecal egg count after worming, can be integral in ensuring your worming program is efficient and effective. 
Written by Michael-j Goddard 
Comments and Questions here
Board name
Topics
Last post

You can talk about anything here

3

12/14/2009

by trevorives